Description
Powerful Pistol Crossbow 50LBS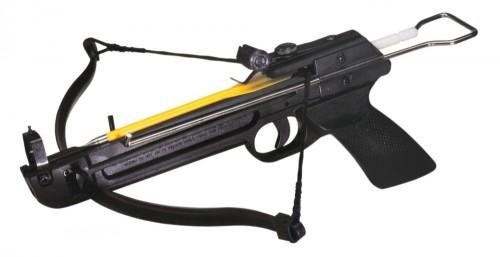 4 Arrows included
More arrows available at checkout at unbeatable prices!
Product Description
The pistol crossbow  may be the smallest in its range but it can pack an impressive punch. This one-hand pistol crossbow is equipped with an easy cocking system and has a draw weight of 50 lbs
SPECIAL FEATURES
Easy Loading System
Pistol Grip Design
Auto Safety when loaded
Rear-sights adjustable
TECHNICAL DATA
50 DRAW WEIGHT
150 FPS
5″ POWER STROKE
6.5″ Alum/ plastic bolt recommended
0.88lb WEIGHT
12.8″ LENGTH
16.5″ WIDTH
METAL LIMB
PLASTIC BARREL
WARNING: DO NOT DRY FIRE. Never shoot a crossbow without a bolt. This may cause damage to you and the crossbow. WARRANTY expires upon dryfire.